Next Level Red & Near Infrared Irradiance

Our ThermaLight Bulb has a uniquely designed filament that delivers a more ideal emission spectrum than standard incandescent heat lamp models and delivers two major advantages for the user.
MORE STIMULATING LIGHT: a higher percentage of both photobiomodulation wavelengths red (600 – 700nm) & near infrared (700-1000nm)
MORE EFFECTIVE HEATING: a higher percentage deep penetrating radiant-heating wavelengths (1000-1500nm).
Targeted ThermaLight™: One Bulb in the Photon™

Here we see one ThermLight Bulb irradiance at 12-30 inch clearance range.
Full-Body ThermaLight™: Four Bulbs in the Luminati™ Sauna

Below shows irradiance measurements delivered during a typical near infrared sauna session by four of our ThermaLight™ Bulbs at recommended 18-30 inch distance range from the body.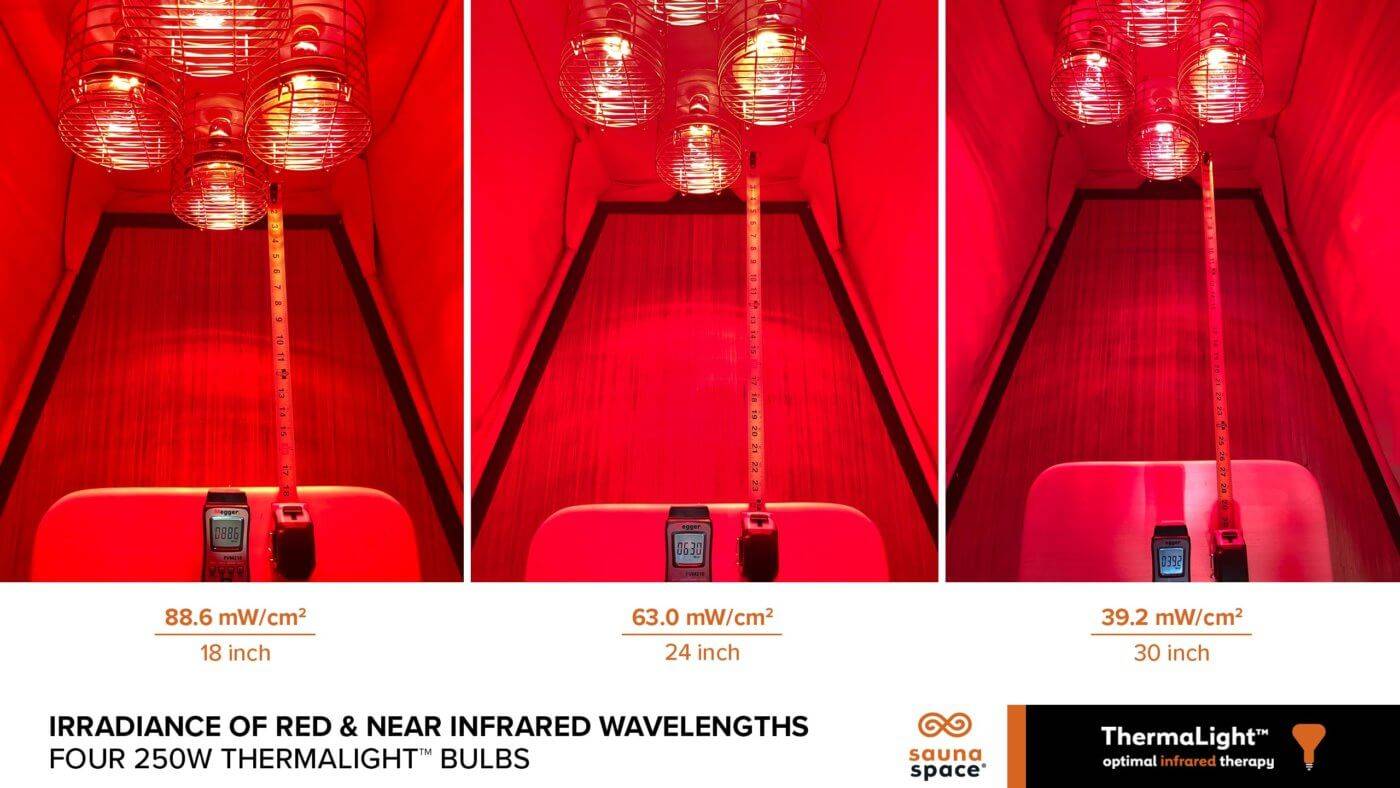 vs Four Standard Heat Lamps in the Luminati™ Sauna

For comparison, we've measured the irradiance of four 250W standard heat lamps of the Industrial Performance Brand sold with all SaunaSpace products prior to July 2019. Standard heat lamp bulbs are emitting about 50% less measured red and near infrared wavelengths.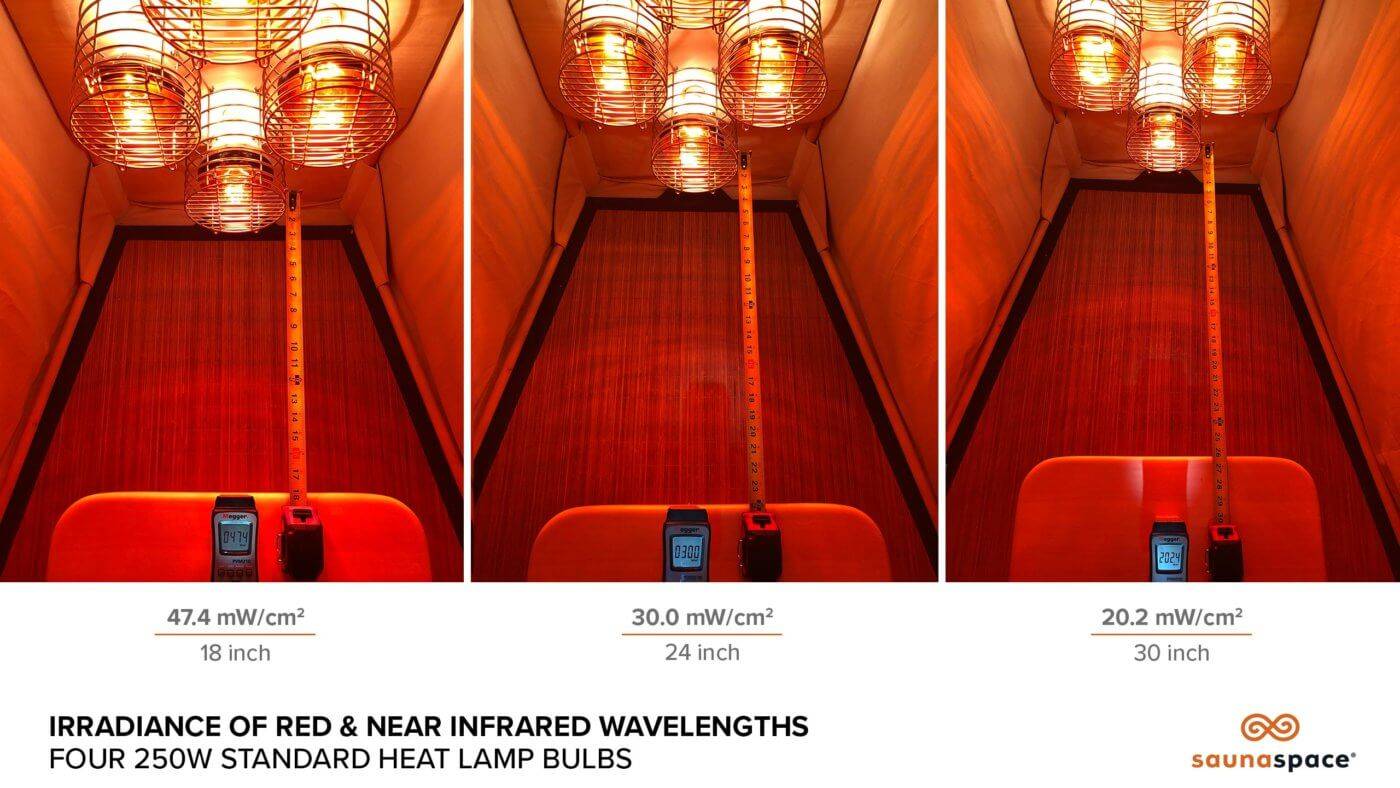 BRAND SaunaSpace®
WEIGHT
.2 lb (.1 kg)
DIMENSIONS
Length: 6 in (15.2 cm)
Width: 5 in (12.7 cm)
ELECTRICAL INFO
Wattage: 250 W
Voltage: 120 V or 240V
Size: R40
Base: E26
Coating: None
Filament: Tungsten
Lifespan: up to 5000 hr
Light Type: Incandescent
Material: Mouth-Blown, Hand-Rolled Red-Stained Tempered Glass
Country of Manufacture: China
SaunaSpace Shielding Mitigates the EMF

SaunaSpace Light Panels are fully shielded, ensuring zero emf influence on the user from the electrical components. Here's what we've measured.
Electric Field Measurements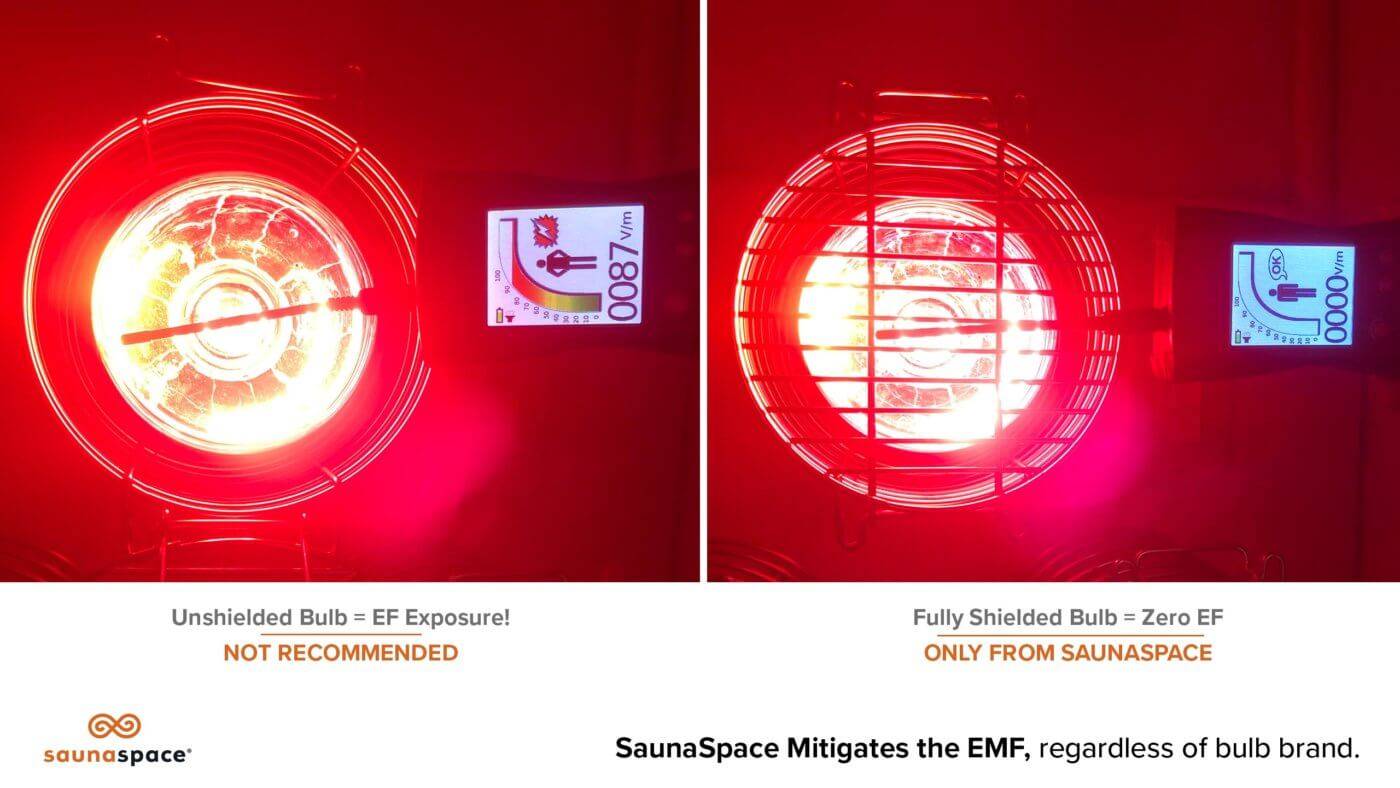 Magnetic Field Measurements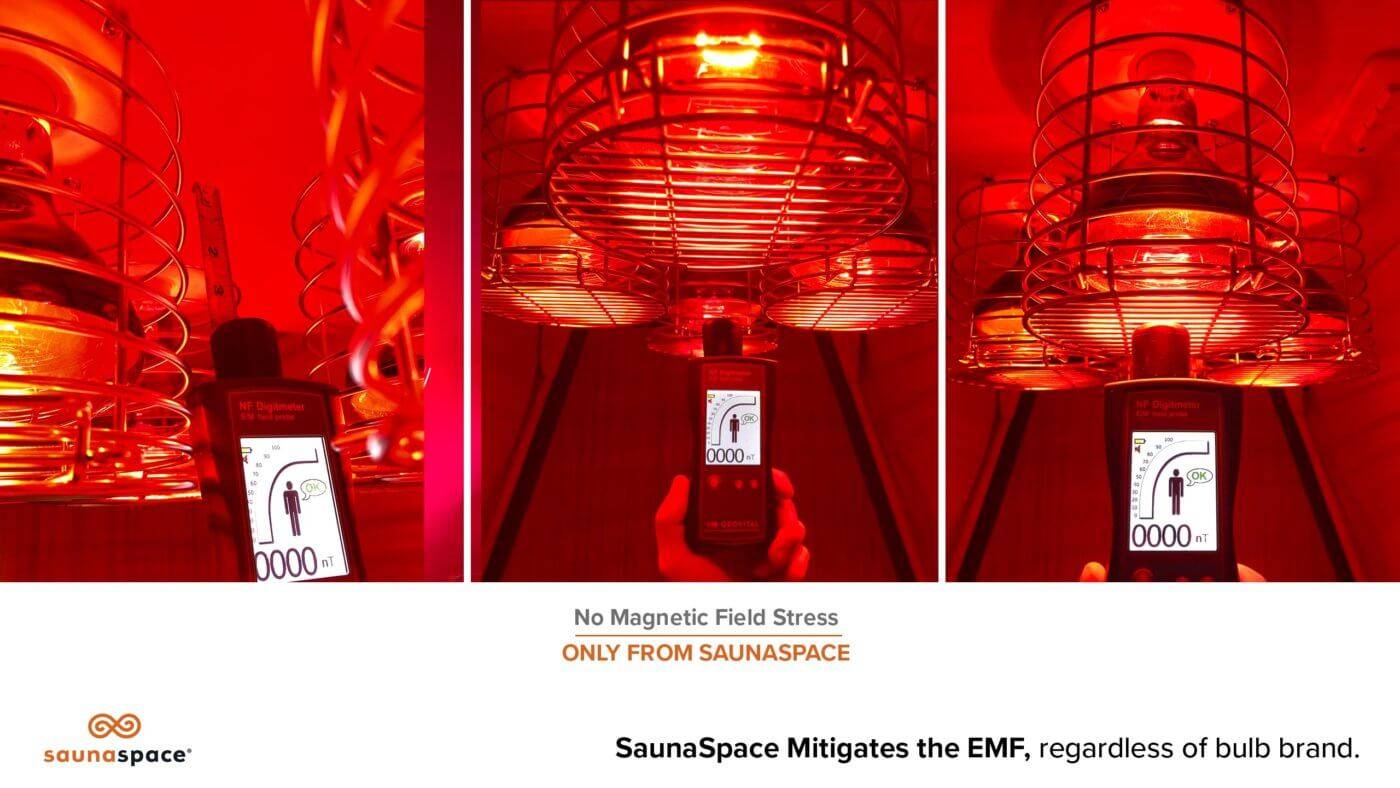 How is ThermaLight™ different from all other heat lamp bulbs?
ThermaLight™ delivers more mitochondrial-activating red/near infrared power and more effective heating per watt than any other incandescent heat lamp bulb available. Our glass is beautifully mouth-blown, hand-rolled red-stained hard glass for the most amazing dark red hues and extreme durability.
Are ThermaLight™ bulbs hotter than standard brands of lamps because they put out more far infrared energy?
No, it's hotter because ThermaLight™ puts out more near infrared energy.
SHORT EXPLANATION:
In Nature, the higher temperature an incandescent light source is, the more near infrared is emitted.
The Sun is ~5500K, and therefore has ~41% near infrared emission.
Our ThermaLight™ bulb's filament is ~2450K and therefore has 39% near infrared emission.
The candle flame is ~1800K and has ~20% near infrared emission.
So, the obvious trend in Nature is that the hotter the incandescence, the higher percent emission of near infrared…but, can we comparatively measure the amount of near infrared emitted? Yes! check out the images above showing irradiance measurements of ThermaLight™ bulbs in Photon™ and Luminati™ Sauna environments.
LONG EXPLANATION:
See how we calculate percent near infrared emission on our Sauna Science Page.
Have a question and want to see it here in FAQs?
Click "Ask a Question" below in the Reviews section of this page, and we will answer you as soon as we can, and if the question is common enough we will post it here.