ONLY THE FINEST NATURAL MATERIALS
We select only the most non-toxic, non-treated natural materials so you're protected from toxic chemical & off-gassing.
Our careful quality control ensures every piece of your product is perfect and will last you a lifetime of use.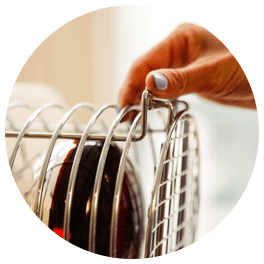 NON-OFFGASSING, SAFE HARDWARE
USA-manufactured Stainless Steel Faraday Guards and Hardware are not powder-coated or treated.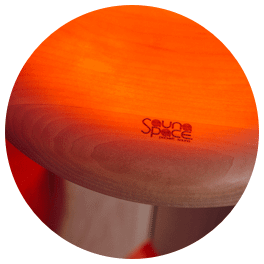 Select-grade, sustainably harvested North American Basswood is zero-VOC rated and not treated with any chemicals or oils, so it won't outgas.
Our thoughtful sauna design addresses usability, safety, material offgassing, non-native EMFs, durability and more.
The Photon™ stands up on it's own on any flat surface. It's counter-balanced to also tilt at a 45° angle.
It has rear VESA-D 75×75 mm anchors to mount to almost any tv/monitor arm on earth.
It also has our smart clamping hardware so you can add it into the Luminati™ below the Tungsten™ Panel for direct targeting of the foot/lower leg during your full-body sauna sessions.
The removable 10 ft power cord so you can leave the cord in place on your monitor arm, and take the Photon™ home with you after work.
We love our craft, and it shows in every piece of our Photon™.
All basswood components are handworked and hand-polished buttery smooth.
Robotically welded, Stainless Steel Hardware for durable reliability.
Our rigorous quality control involves inspection of every component.
That's why we confidently guarantee our product for a lifetime of use.
THE WORLD'S ONLY ZERO EMF SHIELDING

We don't just say it, we test and measure it. And so can you.
SaunaSpace's shielding design ensures there is ZERO magnetic field (MF) and ZERO electric field (EF) stress on your body from the Photon™.
MF is 0 mG (not detectable) beyond the face of the Faraday Lamp Guards.
EF is 0 V/m on the front and rear Panel body, 0 V/m in front of the Faraday Guard & 0 V/m on the Shielded Power Cord.
Every Photon™ we craft is tested with the Geovitals EM Field Probe. Utilizing specialized gold-plated sensors, the Geovitals meter is one of the most sensitive electric and magnetic field meters available, far more sensitive than an ungrounded Trifield meter. Check out our EMF testing results.
Our signature rigid stainless steel Faraday guards keep you safe and do not off-gas anything.
The guards' front grille bars keeps even small fingers from accidentally touching the bulbs, unlike inferior guard designs out there.
Porcelain sockets, stainless steel hardware and untreated solid basswood means durability without any chemical off-gassing, period.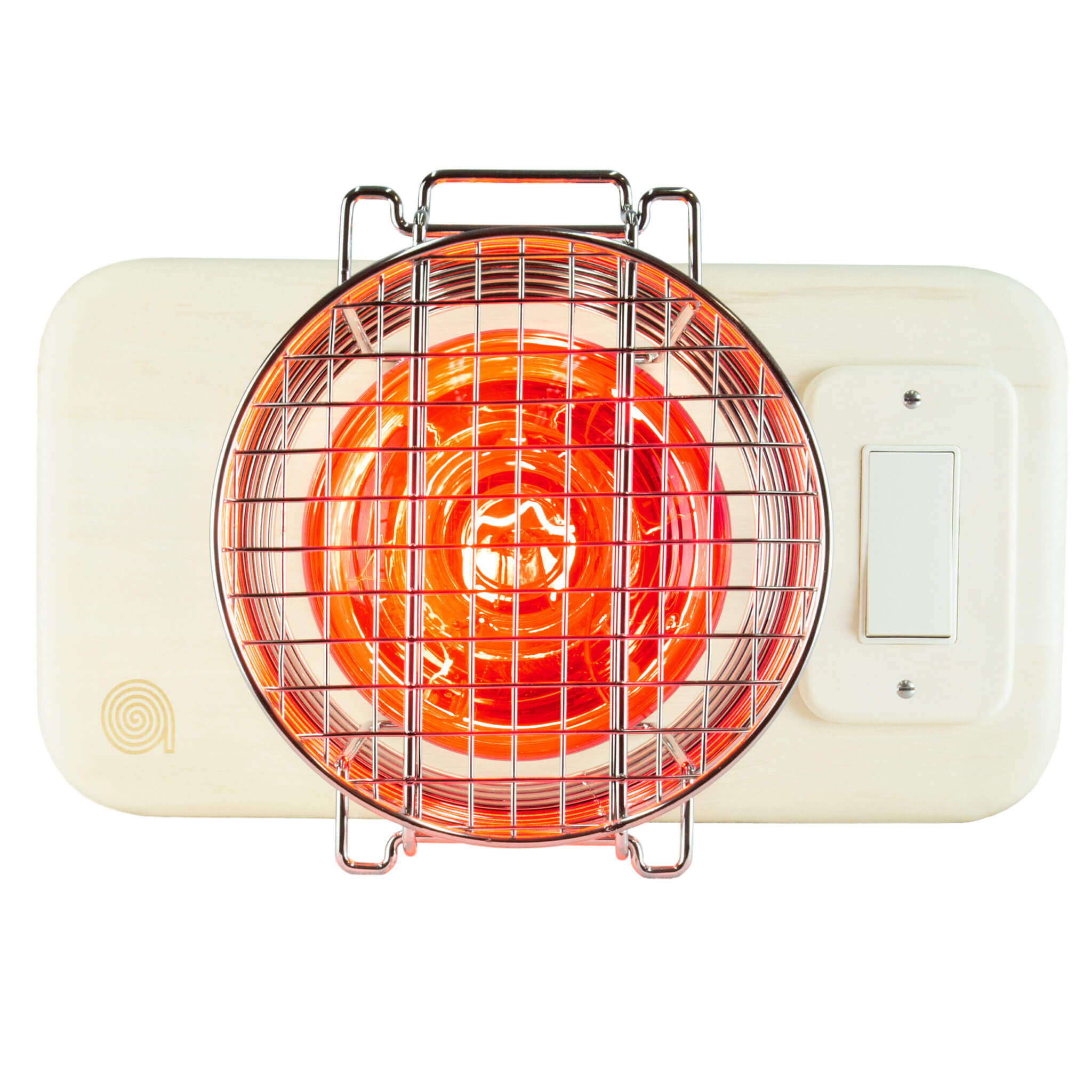 NEAR INFRARED PHOTON
10-ft removable power cord and one 250W NIr ThermaLight™ Bulb included.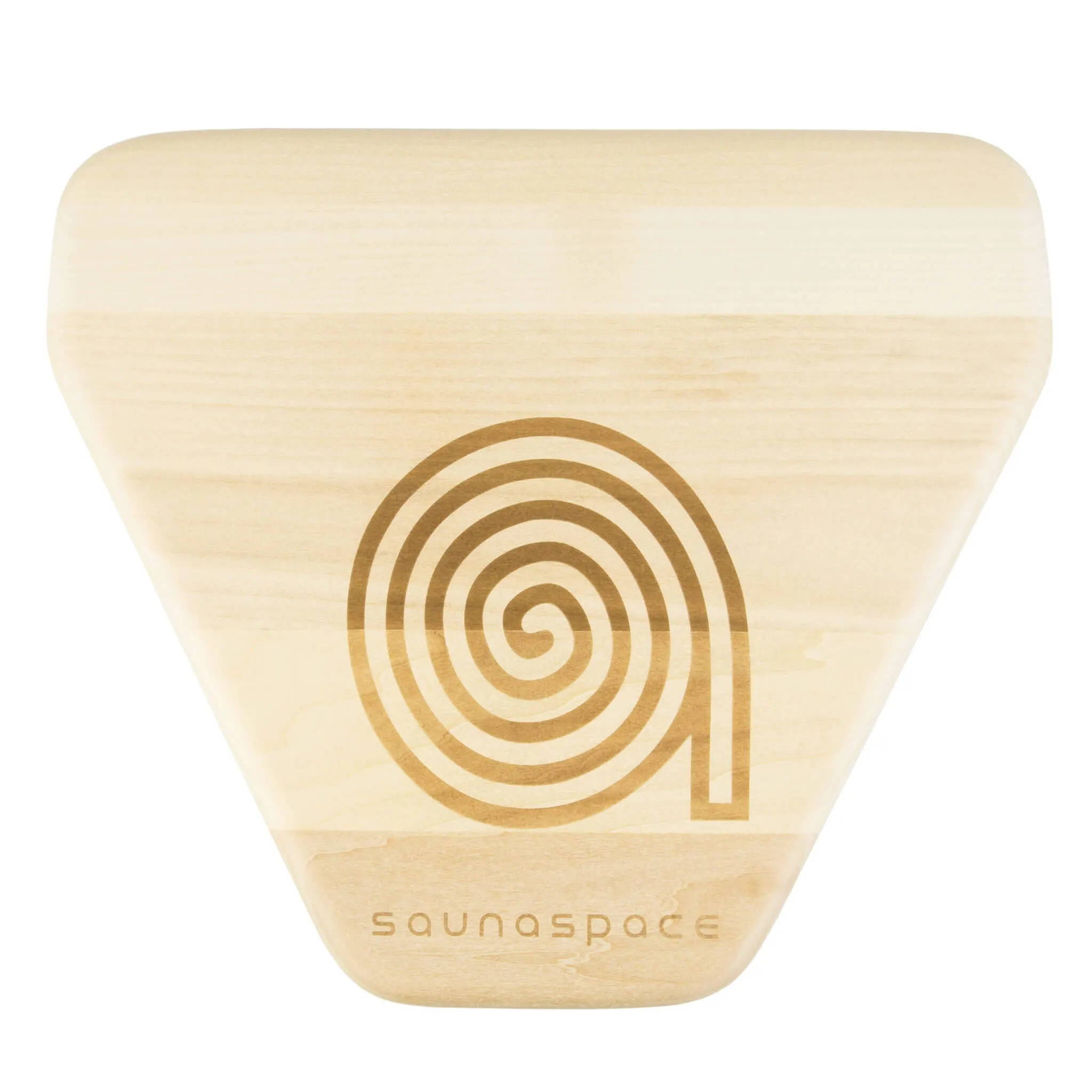 Base Plate
Use the Base Plate if you want under the Light Panel for use on synthetic surfaces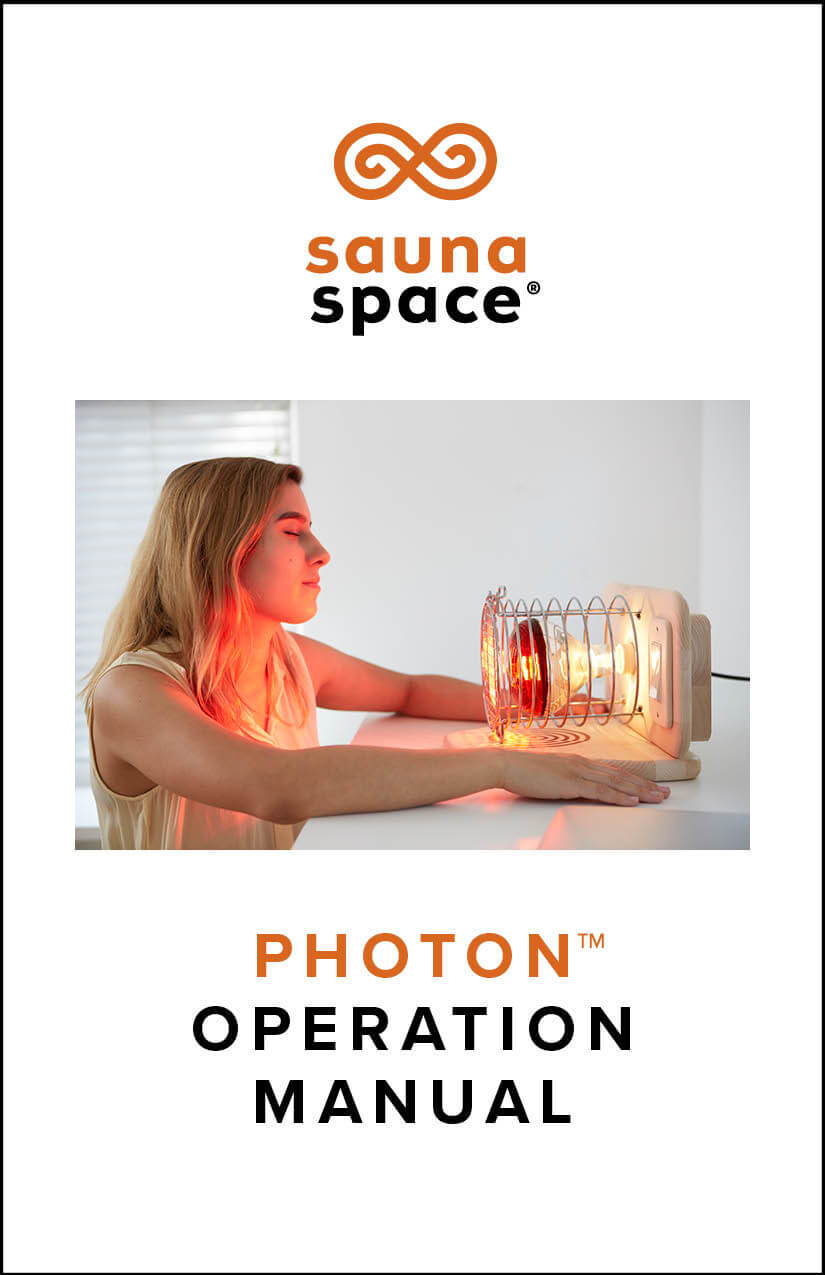 SIMPLY SOOTHING
Incandescent Light and Heat is natural…that's why it feels better than far infrared and LED-alternatives.
Brand SaunaSpace®
WEIGHT
Photon Weight: 4.375 lb (1.98 kg)
Base Stand Weight: 1.1 lb (0.50 kg)
DIMENSIONS
Width: 13.6 in (34.6 cm)
Height: 7.5 in (19.5 cm)
Depth: 9 in (22.9 cm)
BASE DIMENSIONS
Width: 11.25 n (28.6 cm)
Height: 10 in (25.4 cm)
Depth: 1 in (2.6 cm)
ELECTRICAL INFO
Operating Cost: 4¢ per hr [1]
MF (Magnetic Field) Rating: 0 mG [2]
EF (Electric Field) Rating: 0 V/m [3]
Voltage: 110-240 VAC
Amperage: 2.1 A (120VAC USA Voltage) or 1 A (220-240VAC International Voltage)
Wattage: 250 W
Frequency: 50-60 Hz
Plug Type: USA, UK, Euro, Swiss or AU/NZ
Removable E-Shielded Power Cord Length: 10 ft (3 m)
All electrical parts UL-listed
CE-certified
[1] based on USA national average 16¢ kW-hr cost
[2] at ~6 in (15.2 cm) or greater distance from panel body. Measured with a grounded Geovitals EM Field Probe.
[3] measured with a grounded Geovitals EM Field Probe.
PHOTON MATERIALS
Front Panel & Wiring Tray: North American Basswood (Tilia americana)
Lamp Guards, Handle, Height-Adjustment Brackets: Stainless Steel
BASE PLATE MATERIAL
North American Basswood (Tilia americana)
LUMINATI ADD-ON
Part of our Luminati™ Sauna
TARGETED USE
Flexible Targeted Therapy use anywhere, anytime.
USE AT HOME
At home on the couch or on the floor.
USE AT THE OFFICE
At your office desk, standing straight or tilted at 45° angle, on or off the base plate.
For the ultimate office desk use, mount it on almost any VESA-D 75×75 mm compatible tv/monitor arm so it doesn't take up any of your precious desk space.
GLOBAL TRAVEL USE
It fits in the standard carry-on luggage, for travel on any commercial airline!
START YOUR 100 DAY TRIAL TODAY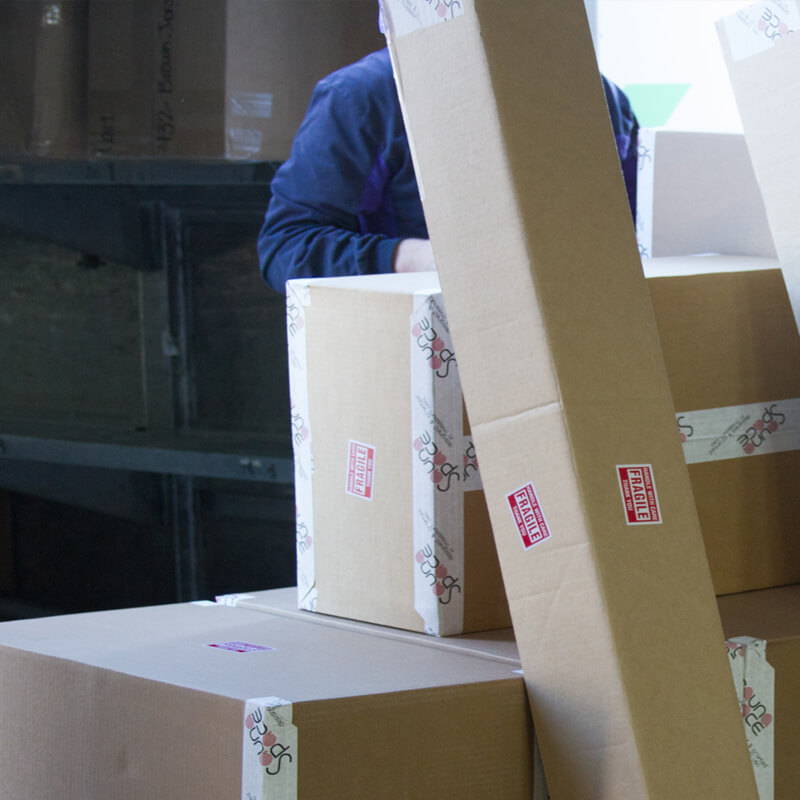 FREE SHIPPING BOTH WAYS IN USA
FOR ALL ORDERS OVER $248 IN THE USA
Free insured trackable FedEx Ground Shipping to all 50 States in USA. We also ship to every country on Earth. Calculate your international shipping rates in the Cart.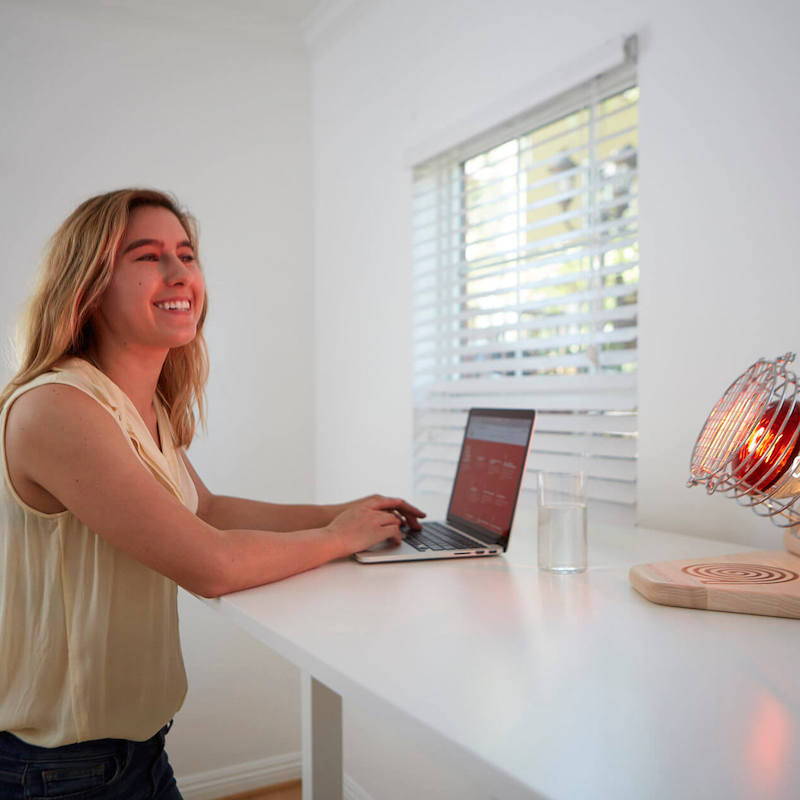 PEACE OF MIND, AND YOUR SATISFACTION GUARANTEED
Use it for 100 days after arrival. If you are not completely satisfied,, we'll arrange the free return ship. As long as it's returned in "like-new" condition, we give you a full refund!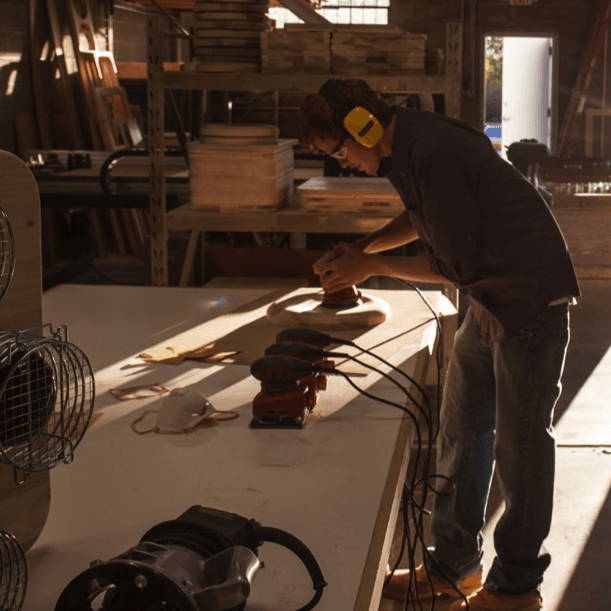 SAUNASPACE 10-YEAR WARRANTY
OUR PRODUCTS ARE BUILT TO LAST
Rest assured: You're buying a handmade product designed to last a really long time. All SaunaSpace Handcrafted Products come with our 10-Year Warranty.